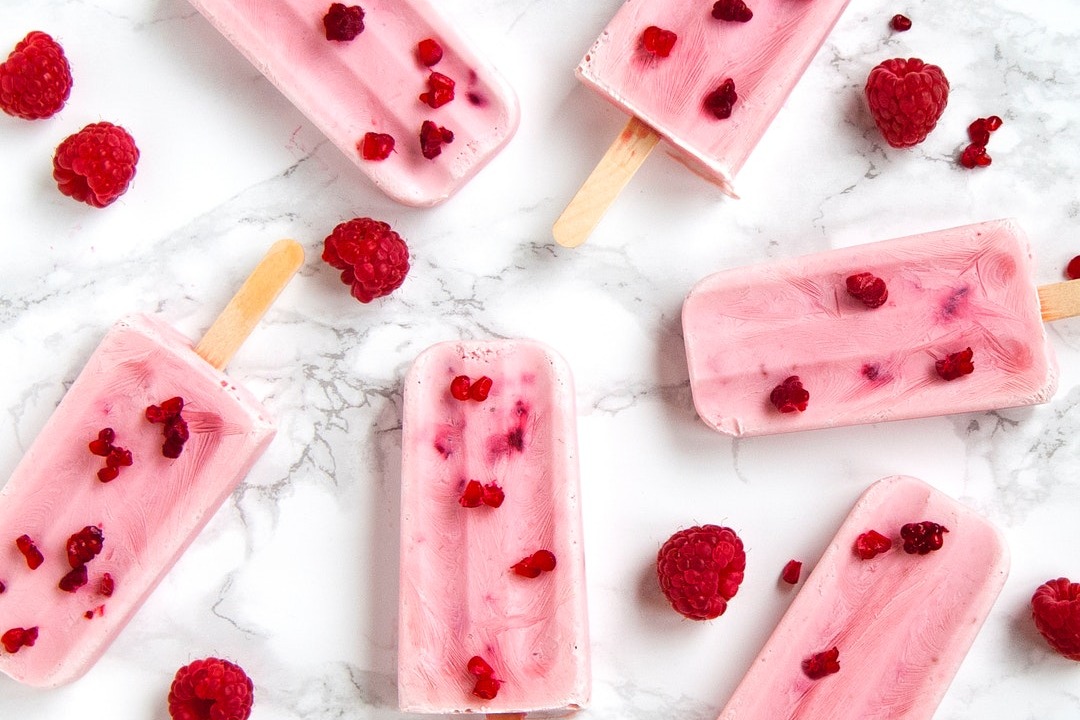 Popsicles for Vegans-Homemade and Healthy
When you think of summer, a few things come to mind:
Ice Cream
Popsicles
Sundaes
Root Beer Floats
Milkshakes
And much more!
You get excited when the ice cream man comes through your neighborhood or when your friends suggest going out for a cone.
But, then….
The idea of breaking your vegan diet comes lurking in the shadows of a fun night out.
No fear!
You can still enjoy a refreshing sweet, cold treat on a hot summer day. Just like everyone else.
What's even better than buying a sweet treat?
Making one!
Invite your friends over to make popsicles with you!
Don't know where to start?
Read on for easy, fun, and delicious popsicles and their recipes!
Pineapple and Kiwi Popsicles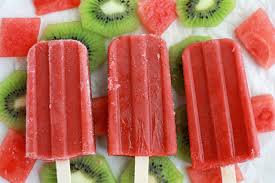 Ingredients: 
3 cups of chopped pineapple
2 tsp turmeric
1/2 tsp of black pepper
2 tbsp coconut oil
2 sliced kiwi
Instructions 
In a blender, mix pineapple, turmeric, black pepper, and coconut oil. Blend the mixture until your smoothness preference. If you like your popsicles to be more "chunky" then you won't have to blend as long.
Pour your blended mixture into a popsicle mold.
Place the popsicle mold in your freezer for at least 24 hours.
Blackberry Cheesecake Popsicles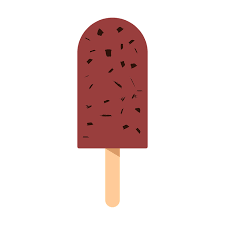 Cheesecake Ingredients 
1 1/2 rolled oats (gluten-free optional)
1 cup water
4-5 tbsp maple syrup
1 tbsp apple cider
2 tsp lemon juice
1 tsp vanilla extract
1/2 salt
Berry Filling Ingredients 
2/3 cups of blackberries
1 tbsp of chia seeds
Crust Pieces Ingredients 
3 tbsp of buckwheat groats uncooked
3 tsp of pitted dates
1/8 tsp salt
Instructions 
Cheesecake part: Place all the ingredients for the cheesecake part of the popsicle into a blender. Mix until it's completely smooth. Make sure to taste the blended ingredients so it's the level of sweetness you want. After you're done, put the mixture into a container and place in the refrigerator until later
Berry filling part: Put the berries into a bowl and mash it up with a fork until it's mostly crushed up. Mix in the chia seeds after mashing the berries. After, place it in the refrigerator for 20 minutes.
Crust part: Put all the ingredients in a food processor. "Pulse" until the mixture is a little broken up.
Putting it all together: Fill one half of your popsicle mold with the cheesecake mixture and the other half with the berry filling mixture.
Stir the two mixtures together in the popsicle molds.
Divide the crust into six pieces and then place it on top of the molds.
Poke a hole into the molds so you can put a popsicle stick into it.
Freeze the mixtures overnight or for 6-8 hours
Watermelon Kiwi Popsicles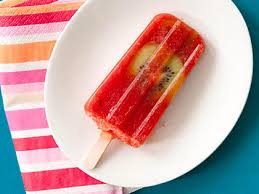 Ingredients 
3 1/2 cups of watermelon cut up into cubes (seedless or with seeds)
3 pieces of kiwi sliced and peeled
4 tsp of sugar
Instructions 
Place the watermelon into a blender and mix until completely smooth.
Fill your popsicles molds about 2/3 full with the blended.
Put the popsicle mold into the freezer for 2 hours.
Combine the kiwi and sugar into the blender and mix until smooth.
Take the popsicle mold out of the freezer.
Pour the kiwi mixture into the popsicle mold.
Put the completed popsicle back into the freezer for at least 4 hours.
Vegan Fudgesicles Popsicles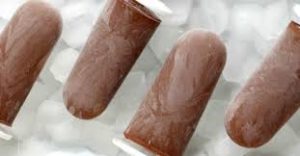 Ingredients 
1 1/2 cup of non dairy milk (soy, almond, coconut)
1 cup of whole-fat coconut milk (often found in a can)
1/2 cup sugar
3 tbsp cocoa powder
2 tsp cornstarch
1 tsp vanilla extract
Instructions 
Whisk together the non dairy milk, coconut milk, sugar, cocoa powder, and corn starch into a medium pan. As the mixture heats up it will come together. Bring the mixture to a simmer after it's whisked together and let it cook for 3 minutes. Whisk occasionally while you let it cook. When the sugar has dissolved it is done cooking.
Remove the mixture from the stove and mix in the vanilla extract.
Let the mixture cool.
Pour it into the popsicle mold and let it freeze overnight.
Banana Granola Popsicle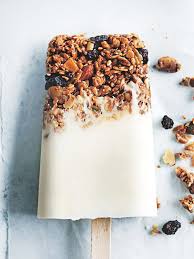 Ingredients 
4-5 frozen bananas
1 ripe banana
1/2 cup date paste or real dates
1/2 granola (store bought or homemade). You can even use crumbled graham crackers or cookies instead of granola
Instructions 
Blend all the frozen bananas in a blender until smooth. If you need to add non diary milk for this step that's ok.
Put 2-3 spoonfuls of the frozen banana mixture into your popsicle mold and then add a couple banana slices. Repeat these layers until the mold is full.
To finish off the mold, put the date paste and granola on top.
Put the finished popsicle molds into the freezer overnight.
Enjoy the next day!