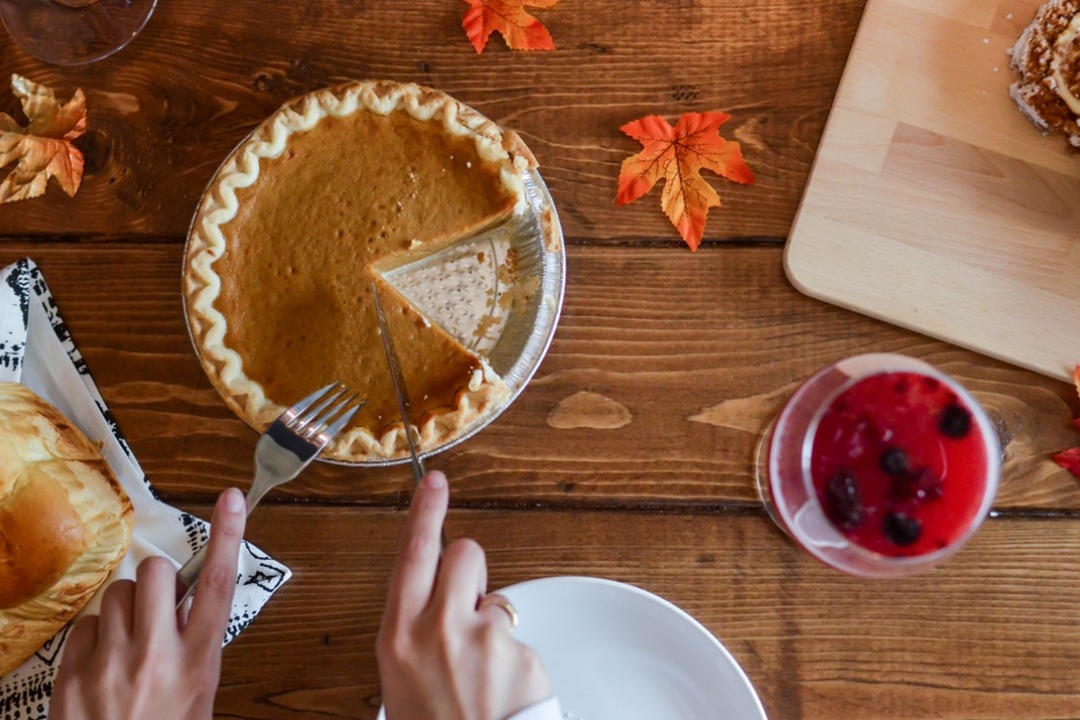 4 Best Vegan Pie Recipes for the Turning Season
When the seasons begin to turn so do our appetites and clothes. What does fall mean? It's apple picking, pumpkin carving, warm nights by the fires. And, of last but certainly not least it's pie season! What does that mean for you and your vegan and non-vegan friends? Absolutely nothing special! And you shouldn't feel left out because of your diet! Pie season can easily include you! It's not hard to make pies as a vegan and there's many pie options available to you! Don't believe me? I'll prove you wrong! I'll list the 5 best pies that you can eat and create for yourself!
Crustless Pumpkin Pie with Pecan Streusel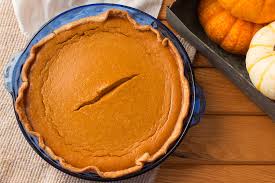 Filling Ingredients: 
1 can unsweetened pumpkin puree (16oz)
1 can pumpkin pie mix (16oz)
1 tsp pumpkin pie spice
1 1/2 Tbsp coconut oil, melted
1 cup raw cashews, soaking optional
1 large sweet apple
2 Tbsp maple syrup
1/2 tsp salt
Pie Dish Coating Ingredients: 
1/4 cup hemp seeds
1 Tbsp virgin coconut oil
Crumb Streusel Topping:
1/2 cup oat flour
1 1/2 Tbsp virgin coconut oil, melted
1 1/2 Tbsp maple syrup
1/2 cup raw pecans, chopped
1/4 tsp pumpkin pie spice
Directions: 
Collect all the ingredients and measuring cups
Preheat the oven to 400 degrees
Grease a standard pie dish with coconut oil and then sprinkle it with hemp seeds as evenly as possible! Including the sides of the pie dish.
Put all the filling ingredients into a mixing bowl. Use a high-powered mixer to mix until fluffy.
Pour the filling into the pie dish.
Put the mixture in the oven for 30 minutes
Crumble: In a small bowl, combine the streusel topping mixture until thick and crumbly. Crumble it evenly over top the half-cooked pie filling.
Place pie back in the oven and bake for an additional 30 minutes.
Allow pie to cool overnight in the fridge for best slice-and-serve results.
Mini Apple Tarts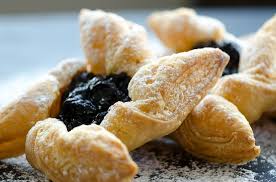 Ingredients: 
2 gala apples, peel on, cored and cut into small bite sized pieces
3 tbsp sugar
1/2 tsp ground cinnamon
1/4 tsp nutmeg
1 tsp fresh lemon juice
1 tsp vodka, optional
Homemade or store-bought pie crust (thawed if store bought)
1 cup cashew whipping cream
1 tsp vanilla
1 tbsp sugar
Ground cinnamon, for dusting
Directions: 
Preheat oven to 350 degrees .
In a medium bowl, combine apples, 3 tbls sugar, cinnamon, nutmeg, lemon juice, and vodka.
Heat a small saucepan over medium heat. Add apples and cook util apples just become slightly tender, 5 to 8 minutes. Remove from heat; set aside.
Roll out pie crust and put out squares slightly larger than your baking pan – or circles if using a muffin tin. Gently press pie crust into brownie pan (of regular muffin tin) cups, the dough should come up the sides a bit.
Spoon apples into pie crust cups, you want a heaping single layer over the bottom of the tart. Bake for 15 to 20 minutes until pie crust is golden around the edges and flaky. Remove from oven; set aside.
In a medium bowl, whisk together heavy cream, vanilla, and 1 tablespoon sugar until medium to stiff peaks form.
Remove tarts from baking pan, plate, and top with a dollop of whipped cream. Sprinkle with cinnamon if desired.
Banana Cream Pie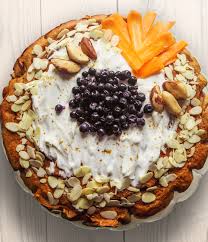 Ingredients: 
3/4

 

cup

 

gluten-free rolled oats

3/4

 

cup

 

raw almonds

1/4

 

tsp

 

sea salt

 (optional)

2

 t

bsp

 

organic cane sugar or coconut sugar

1/4

 

cup

 

melted coconut oil

2

 t

bsp

 

cornstarch

1/3

 

cup

 

organic cane sugar or sub coconut sugar

1

 

pinch

 

sea salt

 (optional)

1 1/2

 

cups

 

unsweetened plain almond milk

1

 

tsp

 

pure vanilla extract

1

 

medium

 

just ripe banana, sliced

1

 

14-ounce

 

can coconut cream 

1/2

 

tsp

 

vanilla extract

3-5

 t

bsp

 

organic powdered sugar

Coconut Whipped Cream

1-2

 

more

 

just ripe bananas, sliced
Directions: 
Preheat oven to 350 degrees F (176 C) and either line an 8×8-inch baking dish with parchment paper, or grease a standard pie dish. Set aside.
Add oats, almonds, sea salt (optional), and sugar to a high speed blender and mix/pulse on high until a fine meal is achieved.
Remove lid and add melted coconut oil (1/4 cup as original recipe is written // adjust if altering batch size), adding more if it's too dry. Pulse/mix on low until a loose dough is formed, scraping down sides as needed.
Transfer mixture to pie pan or baking dish and spread evenly to distribute. Then place parchment paper on top and use a flat-bottomed object, such as a drinking glass, to press down firmly until it's evenly distributed and well packed on the bottom and up the sides.
Bake for 15 minutes, then increase heat to 375 F (190 C) and bake for 5-10 minutes more.
In the meantime, prepare pudding by adding cornstarch, sugar, and salt (optional) to a small saucepan and whisk in almond milk to avoid clumps (see photo).
Place over medium heat and cook until bubbling, whisking frequently. Then reduce heat to low and continue cooking for 4-6 more minutes, using a rubber spatula to scrape the sides and bottom almost constantly.
Once it appears "jiggly" and a visible ribbon forms when you drizzle some over the top with your spatula, remove from heat, whisk in vanilla, and let cool 10 minutes. Then transfer to a glass or ceramic bowl and cover with plastic wrap. Refrigerate until cooled and set – about 2-3 hours.
In the meantime, place a medium-large glass mixing bowl in the freezer for your coconut whipped cream. Remove coconut cream can from fridge. Gently scoop out the top hardened "cream" into the chilled bowl, leaving any liquid watery portion behind.
Use a handheld mixer to whip the coconut cream until it begins to look like whipped cream – about 1 minute. Then add vanilla extract and lesser amount of powdered sugar. Beat again until light and airy – about 2-3 minutes. Set in refrigerator (uncovered) to chill.
Once the pudding is completely cooled, is jiggly and set, add to the coconut whipped cream and stir lightly until just combined. Set in refrigerator.
Add sliced banana to the bottom of the baked crust, then top with custard-coconut whip mixture. Smooth the top with a spoon, then cover with plastic wrap and set in the refrigerator for at least 4 hours, preferably overnight, to chill/set.
To serve, top with additional coconut whipped cream (optional) and more sliced bananas.
PBJ Pie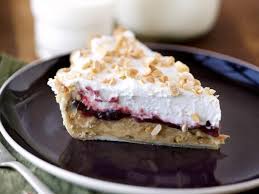 Ingredients: 
3 cups gluten-free whole grain rolled oats, blended into flour
1 1/4 cups almond milk
1 cup date paste (about 16 Medjool dates blended with 1 cup water)
1/2 cup natural, unsweetened crunchy or smooth peanut butter, depending on preference
1 cup chopped strawberries, blended with 1 tablespoon water
Instructions: 
Preheat the oven to 350°F.
To make the crust, combine the oat flour and almond milk.
Pour the crust mixture into a 7 or 8-inch pie pan and spread evenly across the bottom and up the sides of the pan. This mixture is sticky. Just do your best to get it spread evenly — it's okay if it doesn't look perfect.
Bake the crust for 10 minutes, then cool in the refrigerator or freezer.
To make the filling, stir the date paste and peanut butter until well combined.
Pour the filling into the cooled crust, and drop tablespoons of the blended strawberries around the pie.
Use a toothpick to swirl the strawberry mixture into a pretty pattern.
Store the pie in the refrigerator or freezer.