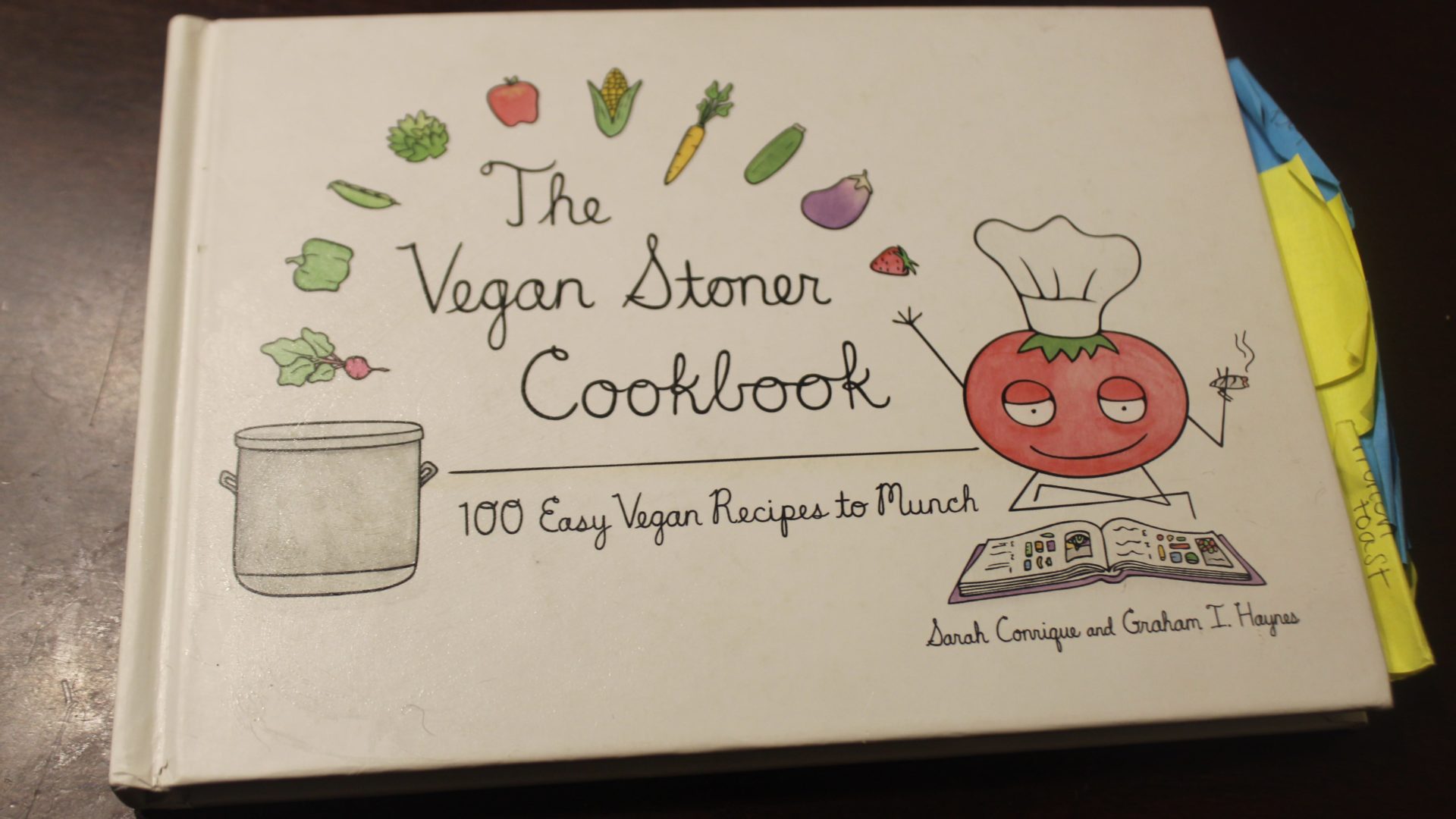 The Vegan Stoner Cookbook: Great Tasting Effortless Meals
Despite the title, you don't have to smoke herb to enjoy this cookbook, although there is a herb oil recipe in the back if that's your cup of kombucha. This cookbook has 100 simplified vegan recipes. Although they don't take much effort to throw together, make any of these recipes and you'll have a good meal. If you're a busy person with little time to prepare food, this book may be up your alley.
The Vegan Stoner Cookbook has a few different sections- Breakfast, Lunch, Munch (snacks), Dinner, Dessert, a reference guide, a guide to the measurements used throughout the cookbook, vegan substitutions, and how tos. The reference guide includes recipes to make your own almond milk, different sauces and seasonings, and breads if you don't want to buy them from the store. The how tos include instructions for different methods of cooking, how to roll burritos, sushi, dough, and spring rolls, how to shape samosas, and how to cook certain ingredients.
Not only is this cookbook extremely helpful, but it is full of adorable illustrations that make the book even more fun. There are tons of healthy recipes as well as snacks to treat yourself with. The breakfast recipes have fried tofu and waffles, orange french toast, yam scramble, and many other tasty, easy meals. For lunch there is a variety of sandwiches, bowls, soups, tacos, and wraps. The munch section has dips, fries, different ways to make vegan hot dogs, and other snacks to enjoy between lunch and dinner. Dinner has favorites like lasagna, pad thai, stroganoff, enchiladas, stuffed cannelloni, tempeh and chips, and much more. The dessert section is full of easy, mouth watering recipes perfect for when you have a sweet tooth. There is a recipe for vegan animal cookies, chocolate mousse, mochi sandwiches, monkey bread, and a ton of other delicious desserts.
This cookbook can be found on Amazon for $13.