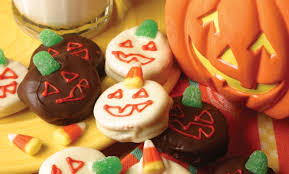 Trick or Treat? How About Vegan Treats!
Trick or Treat?
Treat!
Great so what type of treat do you want?
Candy?
Candy is nice, but what about baking treats for Halloween?
You can share them at your next Halloween Party and it's more fun!
Here are my top 5 Halloween treats for all vegans!
Peanut Butter Crispy Ghosts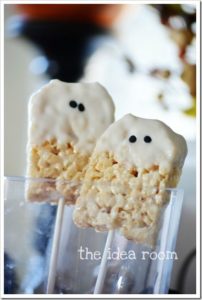 Ingredients: 
3 cups rice crispies
2 tsp pure vanilla extract
1/2 tsp salt
1/2 cup plus 2 tbsp peanut butter
1/2 cup sticky sweetener
melted coconut butter or white chocolate
popsicle sticks or skewers (optional)
mini chocolate chips for the eyes
Instructions:
Mix your nut butter, sweetener, and salt.
Melt your nut butter, sweetener, and salt mix until it can be stirred into a lump-free paste, then add the vanilla extract and pour over the cereal.
Stir very well, making sure to coat all the crispies.
Line a pan (8×8) with wax paper and spread the mixture evenly into the pan.
Place a sheet of wax paper on top of the mixture, then press down as firmly as you can.
 Freeze for at least 30 minutes before slicing, then insert popsicle sticks if desired.
These treats can be stored in the freezer, in the fridge, or loosely covered in a cool, dry place.
Mini Ghost "Mozzarella" and "Cheddar" Pizzas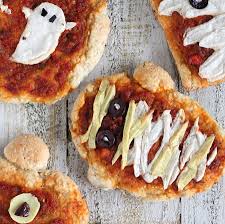 Crust Ingredients:
1/2 cup water
1.5 teaspoons active yeast
2 teaspoons raw sugar
1/4 cup coarsely ground white Sesame seeds
1/2 cup Barley flour
1/2 cup bread flour
1/3 teaspoon salt
1 teaspoon dried basil
2 teaspoons extra virgin olive oil (evoo)
2-3 Tablespoons bread flour for dusting.

Sun-dried Tomato Marinara Sauce Ingredients:
1 Tablespoon evoo
1/4 cup chopped onion
1 bay leaf
2 ripe large tomatoes
3-4 garlic cloves
2 Tablespoons sun-dried tomato
1/2 teaspoon dried herbs
1/3 teaspoon salt
Cheese: 
Either make your own vegan cheese or buy your favorite cheese alternative brand.
Marinara Sauce Instructions: 
In a pan, add oil and heat on low-medium.
Add onions, dried herbs and bay leaf. Cook for 5-6 minutes until translucent.
Blend tomatoes, garlic and sundried tomatoes into a puree.
Add the tomato puree to the onions.
Add salt, herbs and cook on low-medium heat until the sauce thickens. 10-15 minutes
Crust and Pizza Instructions: 
In a bowl, add warm water, yeast and sugar. Mix well and let sit for 10 minutes until frothy.
Add the flours, salt, evoo, herbs and mix well for 2 minutes.
Cover the bowl with a damp towel. Let the dough sit/rise for 1.5 hours or until doubled.
Add 2 Tablespoons of flour, gather it and knead into a smooth dough for 2-3 minutes.
Divide the dough and shape into shapes of choice. Ghosts. squares, pumpkins.
Top with Sundried Tomato marinara, Kalamata olives and cheese strips and cheese ghosts.
Bake in preheated 400 degrees F oven for 12-13 minutes.
Broil on Lo for half a minute to melt the cheese.
Remove from oven, let cool for a minute and serve
Apple Bites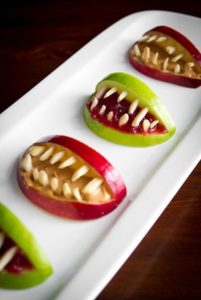 Ingredients: 
2

 

green apples

 

each quartered

almond butter

 

or hazelnut butter

32

 

sunflower seeds

1-2

 

googly eyes per apple bite

 

for the larger eye use a marshmallow
Instructions: 
First, cut the middle out of each quarter of the apple in order to create a mouth.

Coat the inside of the gap where you just cut with a filling of almond or hazelnut butter.

Place sunflower seeds on the top of where the "mouth" is to resemble the teeth.

"Glue" each eye above the mouth, using a dab of almond butter to make it stick in place.

Serve your monsters and enjoy!
Banana Monster Pops

Mummy Ingredients: 
2 bananas, use the end pieces each (save the remains for the other monsters)
1/4 c. vegan white chocolate, melted
1/4 c. shredded coconut (sweetened or unsweetened)
4 homemade vegan googly eyes
4 lollipop sticks
Frankenstein Ingredients:
Remains from the Mummy banana slices
1/4 c. vegan white chocolate, melted + a few drops vegan green food coloring (you might have to use yellow and blue combo)
2 dates, use the end pieces of each
8 homemade vegan googly eyes
8 sunflower seeds
4 lollipop sticks
Instructions: 
Line a baking sheet with a piece of wax paper. Gently place the lollipop sticks halfway through into the bananas, making sure that you do not insert it all the way.
Delicately dip each piece into the melted white chocolate, using a spoon or fork to secure the bottom of it.
For the Mummies: Coat with the shredded coconut and immediately place a googly eye in the middles.
For the Frankensteins: Top with the date end piece, pressing firmly yet gently to secure it on the top. Place the sunflower seeds into the neck and two googly eyes onto his face.
Place all banana pops on the baking sheet and immediately freeze for 10-15 minutes or until set.
Chocolate Covered Pretzel Scream Treat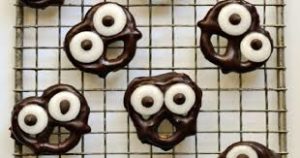 Ingredients: 
20 gluten-free pretzels
1/2 c. dark chocolate, melted
Instructions: 
Dip each pretzel into the melted chocolate. Place two googly eyes in their spot.
Place on a cookie sheet lined with parchment paper.
Freeze for 15 minutes or until set.
Enjoy!
Want even more recipes?
Check out ChooseVeg for more inspiration!