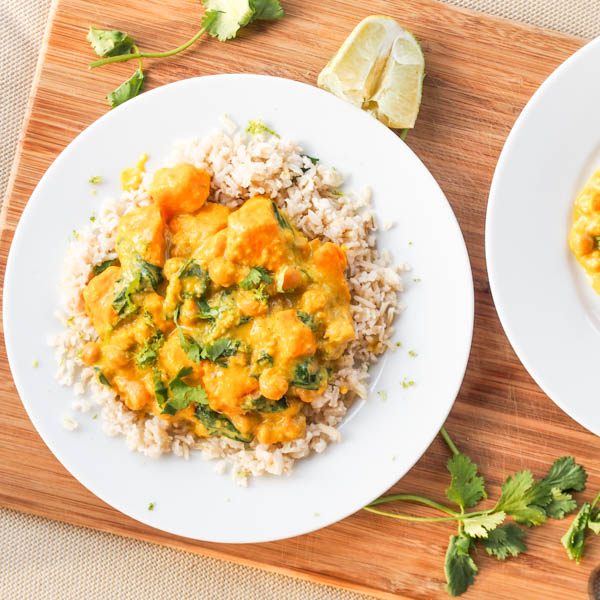 Slow Cooker Recipes for the Working Vegan
Hello!
Welcome back to my weekly blog! Over the past few weeks, we explored different parts of the world!
Wasn't it fun learning about how to travel as a vegan?
Now, let's scale it back and look closer to home.
Since most of the time you won't be traveling, let's dive into a series of slow cooker recipes.
As I'm sure, many of you are working and find it hard to cook a hearty meal at the end of the day.
That's the beauty of slow cooker recipes! You can put all the ingredients in the slow cooker and it will be ready by the time you get home from work.
No more running to the cabinet or pantry to grab the nearest energy bar.
This week, I tried a Chickpea curry dish and it lasted all week!
Although it was originally vegetarian, it was an Indian dish so I easily made it vegan-friendly.
Chickpea Curry Slow Cooker Recipe
Ingredients:
2

 

sweet potatoes

 

peeled and diced

2

 

cups

 

canned chickpeas

 

drained and rinsed

15-

ounce

 

tomato sauce

 

or pureed tomatoes

1

 

cup

 

vegetable broth

 

low sodium

1/2

 

cup

 

coconut milk

2

 

tablespoons

 

curry powder

1

 

tablespoon

 

garam masala

1

 

teaspoon

 

smoked paprika

1

 

teaspoon

 

salt

1/2

 

teaspoon

 

cayenne

plain yogurt, pomegranate seeds, and cilantro

 

optional garnish

brown rice

 

to serve – optional
I took out the sweet potatoes, yoghurt, and pomegranate seeds for my version. It still tasted great!
I added carrots, cauliflower, and onions to my recipe.
The night before, I did prep work and chopped all the vegetables and made sure I knew where all the spices were.
The next morning, I put everything in the slow cooker and was still able to get to work on time!
Instructions
In a medium bowl, whisk together tomato sauce, vegetable broth, coconut milk, curry powder, garam masala, smoked paprika, salt, and cayenne. Pour mixture over the chickpeas.
In your slow cooker, cook the recipe for two hours on high and four on low heat.
For my version, I soaked the chickpeas the night before and cooked them in the slow cooker while I was at work.
To add a crunch to the recipe, I added cauliflower and carrots! I put both ingredients in towards in the end since I don't like soggy carrots and cauliflower should always be crunchy!
By the time I got home, it was the middle of the afternoon. I had a small lunch, put the rice in the rice cooker, and went on a bike ride.
After my bike ride, I was hungry and tired! And, my food was ready to eat!
Results of the Slow Cooker Recipe
The recipe tasted great with a small amount of spice and the added kick of the carrots and cauliflower.
I made more than enough for myself that evening.
After my dinner, I put the rest of the dish in my refrigerator, including the brown rice.
The dish ended up lasting me throughout entire week! Sometimes, I'd come home from work and stir-fry vegetables and add it in. Just to mix up the recipe and variety in my diet!
Let us know what you think of the recipe in the comments below!