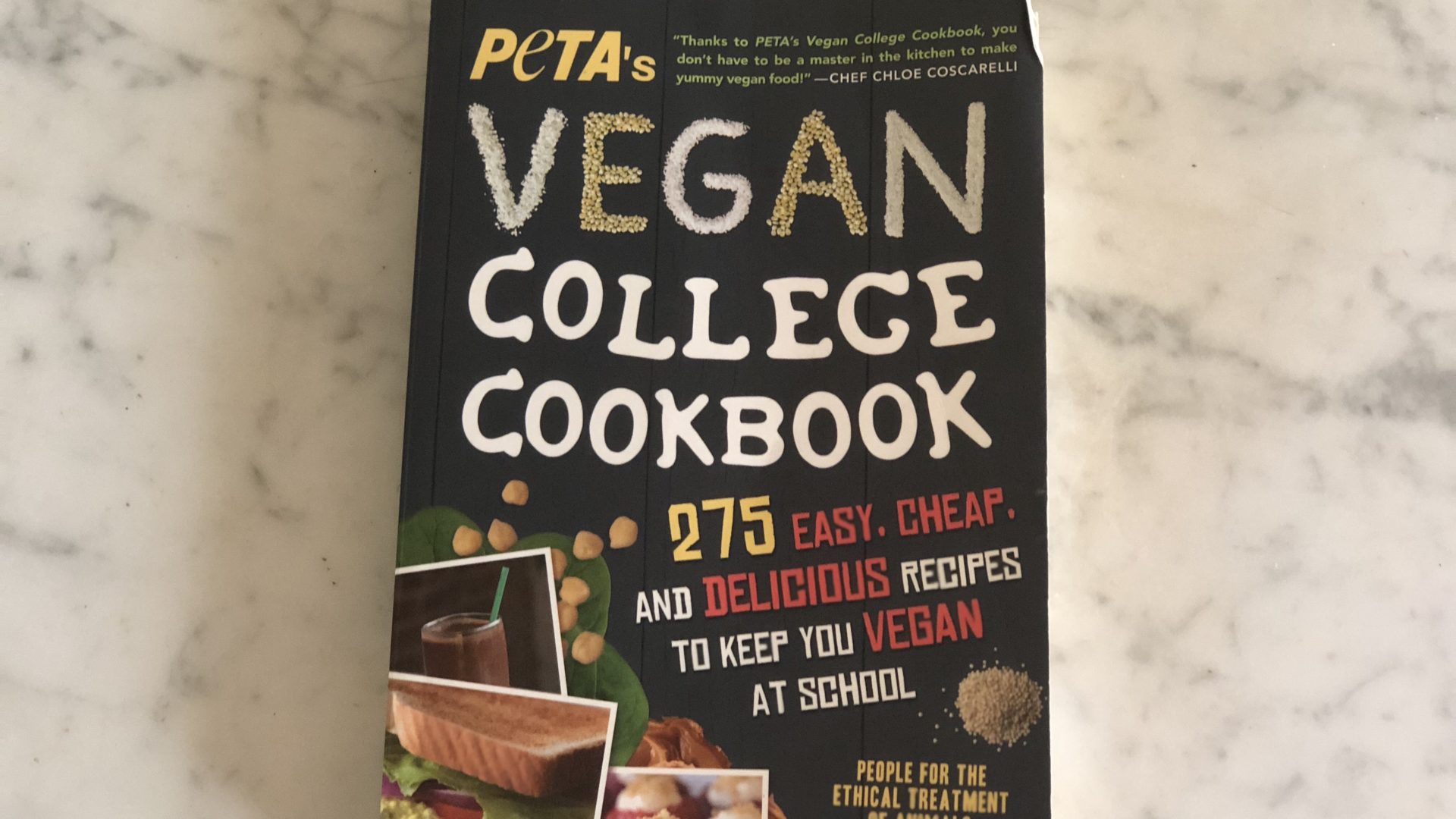 PETA's Vegan College Cookbook: Eating Vegan Made Simple
When looking for vegan recipes, you never know what you're going to find. Sometimes you may find an easy peanut butter cookie recipe, and some days you may decide on a more complex recipe with a longer ingredient list. No matter what your preference is in the kitchen, everybody has those days where you just want to microwave something and be done with it. Some people have these days more than others. For me, my microwave is a life saver on nights when I couldn't be bothered with dirtying dishes and putting time into preparing food.
For college vegans, cooking can be a little harder. Living in a dorm, convenience meals are the go-t0. This is also a more social time where creating yummy-looking meals could change your friends and peers opinions on vegan food. PETA makes cooking incredible food without animal products very easy with their Vegan College Cookbook. I am not a college kid myself, but I find this cookbook to be extremely helpful and simple. None of the recipes look intimidating at first glance, like many vegan recipes that can be found on the internet or in cook books. In fact, this entire book is based around recipes that can be made easily and on a budget.
The book begins with some tips like what you should keep stocked in your kitchen and what vegan alternatives are available for recipes that require things like "beef" crumbles or vegan chick'n. It then provides the reader with 275 recipes that even a college student could afford. The recipes include breakfast, sandwiches, salads, soups and stews, sauces and dressings, dinner, drinks, dips, and snacks. It also has "Spotlights", which are vegan staples that you can get a lot of use out of. For the spotlight sections, there are many recipes based around potatoes, peanut butter, and ramen, which is basically the holy trinity of cheap vegan food.
Although this cookbook is targeted at college kids, I run to my shelf and grab this book when I'm either looking for something simple and inexpensive, or when I'm trying to feed people that typically eat meat. This cookbook is filled with things like chili, chick'n wings, sloppy joes, and other things that you wouldn't expect to find in a plant based recipe book. With this book, you can make endless amounts of comfort food and feed even the fussiest eater a vegan meal that they will enjoy.