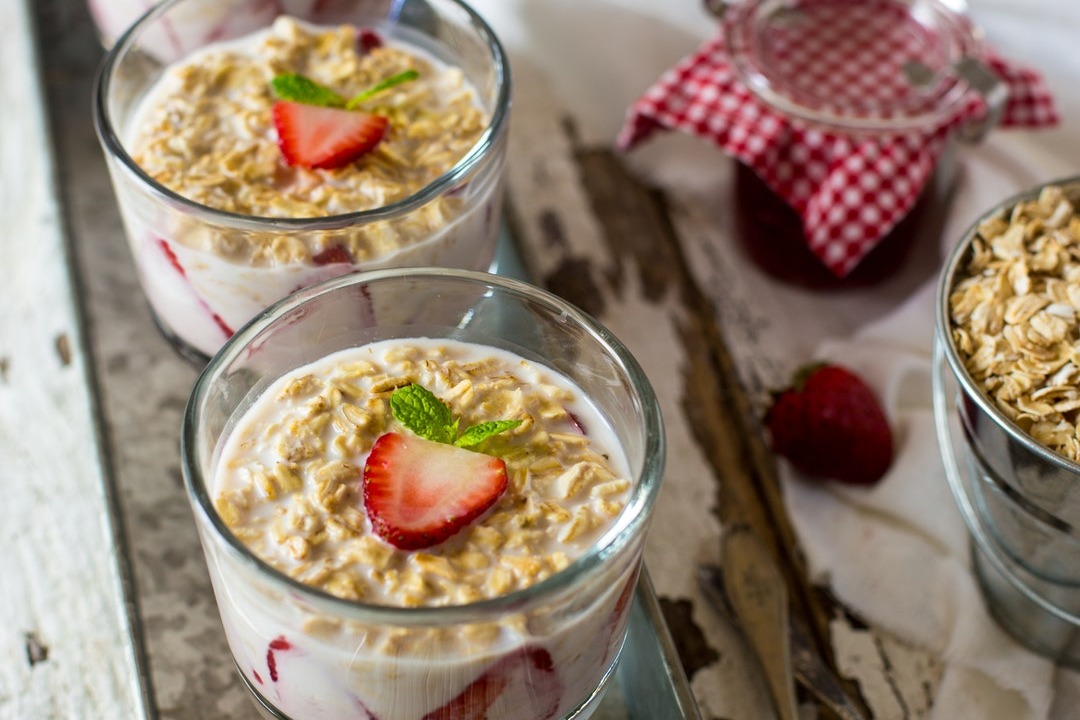 Overnight Oats for the Busy Vegans
Overnight oats are great!
They are easy to do and there's so many to make!
It makes mornings easier especially for all the busy vegan out there.
You'll be glad you tried it at least once.
Then, you'll ask yourself why you didn't start sooner!
For all the recipes below, use your alternative yoghurt substitute. All work the same and you're breakfast will still taste delicious.
I personally like Almond Breeze's unsweetened original kind. It doesn't have any added sugar so it doesn't mess with the taste of my overnight oats.
Let's get started with my favorite recipes I've tried this year!
Peanut Butter Overnight Oats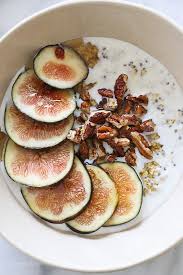 Ingredients: 
1/2 cup of uncooked oats
3/4 tbsp of chia seeds
2 tbsp of peanut butter (your choice of peanut butter)
1 tbsp of maple syrup (you can substitute
Sliced bananas, strawberries, or raspberries (optional)
Flax seed meal or additional chia seeds (optional)
Directions: 
Use a mason jar or small bowl. In your container, pour in your almond milk, chia seeds, peanut butter, and maple syrup. Stir the mixture *Note: you don't have to blend the peanut butter completely in with the other ingredients.
Add more oats to the mixture and stir more.
With a spoon, press the oats down so they're completely submerged in the almond milk.
Cover your mix with a lid or plastic wrap.
Place your bowl  or mason jar in the refrigerator overnight or for at least 6 hours.
The recipe is good for up to 2 days.
Blueberry Overnight Oats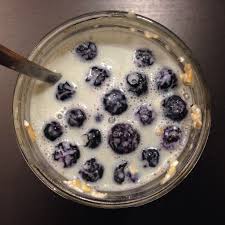 Ingredients: 
1 cup of rolled oats
1/2 of almond milk
1/2 of coconut milk
1-2 tsp of maple syrup
1 tsp of chia seeds
1 tsp of vanilla extract
Pinch of salt
1 cup of blueberries
Directions
In a large bowl, mix the oats, milk (both milks), vanilla extract, salt, and maple syrup. Stir until well combined.
Add the blueberries to the mix.
Put the mixture into mason jars or keep it in the big bowl.
Cover the bowl or mason jars into the refrigerator and let it sit over night or for at least 4 hours.
When you're ready to eat, add your toppings, if any, and enjoy!
Quintessential Overnight Oats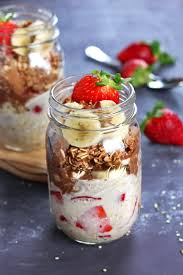 Ingredients: 
2/3 cups of rolled oats
2 tsp of chia seeds
1 cup of almond milk (or your preferred milk)
2 tsp of maple syrup
1 tsp of vanilla extract
Pinch of salt
Directions: 
Find either a big bowl or mason jar.
Put all the ingredients into your container.
Cover the container with a lid. Make sure the lid is secure.
Shake the jar or bowl until combined.
Place the overnight oats in the refrigerator over night or for at least 2 hours.
Chocolate Overnight Steel-Cut Oats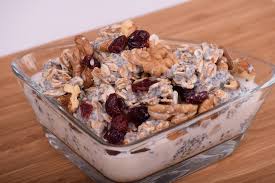 Ingredients: 
1/2 cup of steel cut oats
1/2 cup of almond milk (you can substitute for your choice of milk)
1 tbsp of cocoa powder
2 tbsp of maple syrup
Directions: 
In a bowl, place the almond milk and cocoa powder. Whisk the two ingredients together until there are no lumps.
Add your milk, maple syrup, and steel cut oats into the bowl.
Stir all the ingredients together. Make sure the oats are completely covered when you're down mixing.
Cover up the bowl and place it in the refrigerator overnight.
Add fruit or nuts to it, if you wish, the next morning when have breakfast!
Have a nice breakfast and see you at the next meal!