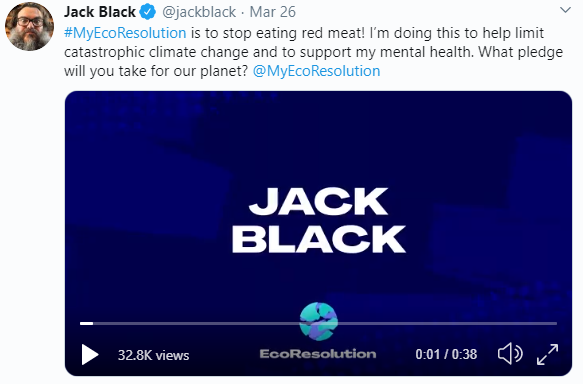 Jack Black Cuts Out Red Meat To Fight Climate Change
Jack Black, among a handful of other widely known celebrities including Cara Delevingne, Kim Kardashian-West, and both Willow and Jaden Smith are taking pledges in an effort to combat climate change. While their pledges are all different, they all have the same end goal in mind.
EcoResolution was created by Cara Delevingne after a conversation about how she would like to learn more about the climate crisis and how she could use her platform to bring awareness to the issue. Started in January 2019, the goal was to remind people that while they feel they only can make a minuscule difference, there is strength in numbers. Many people feel that because their actions have a negative effect on the environment that they can't do anything. Even small changes are important, such as cutting out red meat like Jack Black has pledged to do, and Kim Kardashian-West pledging to follow a plant based diet.
In a short video, these celebrities took turns stating what they pledge to do and why, including non-environmental reasons, such as mental health. Each of these people have a very large social media presence and a platform to speak about these issues.
EcoResolution first started as a social media campaign, with everything taking place on Instagram. This year, EcoResolution plans to delve into a different topic each month that plays a huge factor in our economic state. They started with Food in February, which is a great place to start. At the end of each month, they celebrate actions taken throughout that month.
"If we can step up rather than shut down, there is an exciting invitation before us. To ignite individual initiative- to lead true change, not just buying better reusable coffee cups." – Cara Delevingne