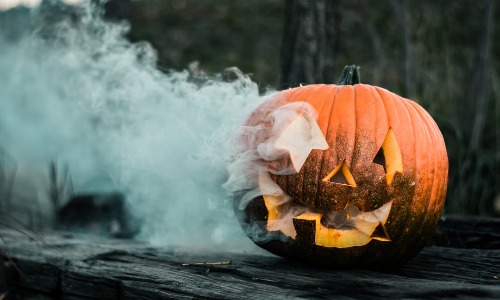 Vegan Halloween
Being vegan doesn't mean you have to miss out on the Halloween festivities. With these snacks and seasonal recipes you'll be feeling in the spirit without the old bite sized chocolate bars you used to eat.
If you're looking to fill a candy bowl, it will only take a quick trip to any local grocery store. You don't have to buy "special" vegan candies, because there are many that are accidentally vegan! You can fill your bowl up with Laffy Taffy, Airheads, Lemonheads, Twizzlers, Hubba Bubba gum, Smarties, Skittles, Sweet tarts, Swedish fish, or Sour patch kids. Any of these candies can be found just about anywhere candy is sold.
If you're having a Halloween party and want to wow guests with vegan candies, you could try Cocomels, Surfs Sweets Candy, Enjoy Life chocolate bars, Unreal m&ms, and Justin's peanut butter cups.
If you're cooking for a party and want to make your dish festive, there are tons of vegan Halloween recipes available online. This ChooseVeg article has 17 creative Halloween recipes that can be made easily, including dips, appetizers, meals, and desserts. Festive cocktails are always a party favorite. Recipes for those can be found online as well, like this list of 20 Best Halloween Cocktails. To make sure a recipe is vegan, just check Barnivore super quick and check that the liquor a drink requires is vegan-friendly.
October is also the perfect time to go to the store because suddenly there is pumpkin everything! Aldi has amazing pumpkin pie dessert hummus and pumpkin spice cold brew coffee with almond milk, Earthfare has their pumpkin spice apple cider on the shelves, and Daiya's seasonal pumpkin spice cheezecakes are back for the time being. Being a vegan during Halloween won't stop you from enjoying all the fun and food, in fact it actually makes it more exciting!