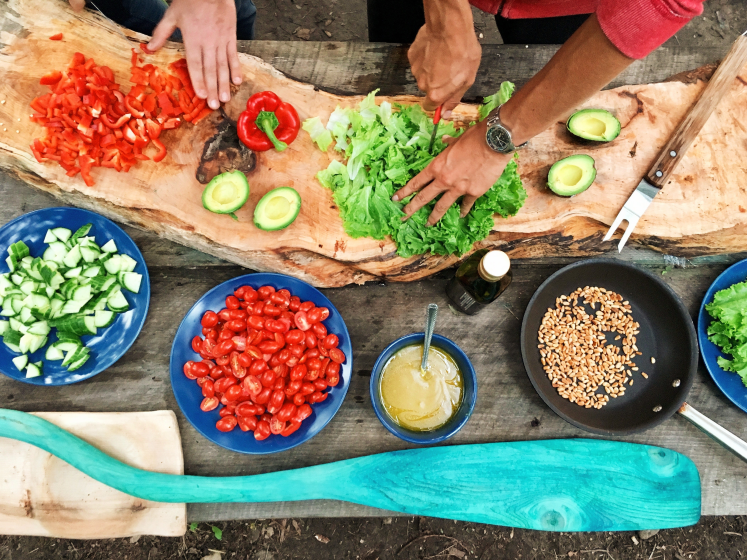 Vegan cooking show New Day New Chef wins two Taste Awards
If your idea of decompression is anything like me – eating ice cream and watching cooking shows – you're probably aware that plant-based representation in this realm is almost non-existent. Some of the most famous vegan chefs, like Chef Chloe Coscarelli, got their reputations after beating the odds and being one of the very few to serve up their plant-based dishes on a cooking show.
However, as the vegan diet has become more popular and accessible, the likelihood has increased of seeing a vegan chef or at least getting a vegan take on a classic recipe. So much so that there is now a plant-based show on a major service. New Day New Chef airs on Amazon Prime, and this peppy cooking show is total feel-good comfort.
Things are clearly going well. They received eight nominations for this year's Taste Awards, which rewards the best programs in the culinary broadcasting world. New Day New Chef brought home two of the Viewer's Choice awards: Best Series Pilot and Best Filmed at Home Episodes or Film.
New Day New Chef started off as a web show but aired its first season on Prime in 2020. The host is Jane Velez-Mitchell, who founded the digital network Jane Unchained, focusing on animal rights and veganism. The guests are a rotation of musicians, athletes, and television personalities who all share their vegan lifestyle in common.
After the pandemic hit, they aired their second season, called the Support and Feed edition. This season highlighted the work being done by the Support and Feed organization to get food to people who need it as COVID-19 made access to food more difficult. Support and Feed was started by Maggie Baird, who is the mother of Billie Eilish and Finneas, so you get to see appearances from all of them in that season.
This show doesn't just highlight great vegan food. The recipes are all whole foods and promote wellness. Tempeh stuffed peppers and roasted veggie tacos are just a few of the standouts that they'll teach you how to cook. Their rotating cast of judges eats what gets cooked up and shares their opinions (spoiler alert: they always want more).
New Day New Chef will also be airing their next program in the fall of 2021. That season will feature guests like chef Matthew Kenney, who has some of the most renowned vegan restaurants out there with his hospitality group, among many other chefs. And if the trajectory continues as it has been, they'll probably be grabbing more Taste awards this time next year.