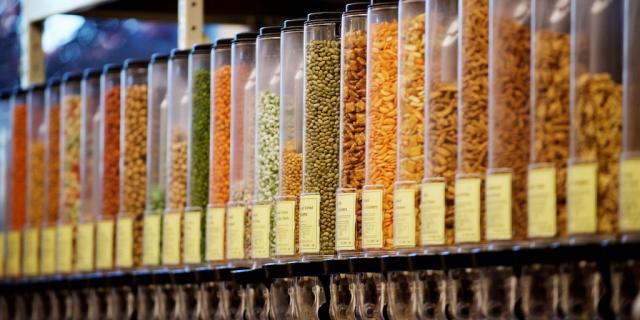 Vegan a la Cheap: Plant-Based on a Budget
Among the multitude of myths surrounding veganism is the insidious belief many have that to eat vegan is inherently expensive.  People who believe this often cite it as an excuse not to go vegan- either because they claim they could not afford it themselves, or because they say that they don't want to be an elitist.  We're here to clear up confusion on this oft-heard myth, and to help people choose compassion regardless of their budget.
When people eat animals, they aren't just paying for the cost of a pound of meat.  They also, in essence, pay for all of the grain and soy (i.e., vegan food!) that the animal ate to produce that meat.   As a result, to eat lower on the food chain very often costs less, as fewer inputs are needed.
In fact, plant-based foods are some of the cheapest foods around.  This is why beans and rice have long been a staple of low-income communities everywhere.  Both at home and abroad, meat product consumption is almost always linked with higher incomes.
Why then, does this myth exist?  It's because some people look at the cost of non-vegan products compared exclusively to vegan substitutes.  Instead of comparing the cost of sausage to beans, they compare the cost of Dollar Store sausage to Whole Foods vegan "sausage" and determine that veganism is out of reach.  Strictly speaking, if a vegan's goal is to only eat plant-based versions of animal products, this can certainly add up.  
This line of reasoning, as you see, doesn't prove the claim that veganism is more expensive.  I could just as easily compare the cost of a pound of tofu ($1-2 at many places) to the cost of salmon at the fanciest restaurant and make a counterargument.  The bottom line is that you can eat expensively or cheaply on either diet.
But the reality is that many people don't know how to make that transition and choose options within their means.  How, then, can they do this?  Some tips for being vegan a la cheap include:
Eat beans and lentils.

For added value, try soaking your own dried beans and buying in bulk.  You will spend mere pennies per pound.  "Buying in bulk" doesn't mean that you need to buy a ton at a time.  It just means to buy in bins where the food you get isn't prepackaged, and you get to decide how much you need.  Pound for pound, this is almost always cheaper than buying prepackaged foods.

Shop at discount grocers

such as ALDI, Trader Joe's, or many Asian grocery stores.  As someone who recently bought a 5-pound bag of croutons at Costco for about $6, I'm not afraid to shop around!

Avoid waste.  On average, American households throw away a whopping $1,600 a year worth of food.  Plan your meals to avoid waste and save serious money. 
Eat less processed grain.

 Grains such as rice, barley, and millet can cost much less than bread, especially if you buy in bulk.

Read labels.

 If you're really stuck on eating heavily processed foods, read labels.  Oftentimes you'll find that products that you wouldn't expect to be vegan totally are.  Sometimes you pay more just for the "vegan" label on the front.

Find good recipes.  

One of the biggest hits to American food budgets – vegan or not – is eating out.  Find a few great recipes to put in your rotation, and you will always have a go-to when you're hungry and unsure what to eat.
Questions? Thoughts? Rebuttals?  Use the comments below to share.